Description
The Concert Grand experience in the comfort of your home

Kawai has been crafting musical instruments for 85 years, maintaining traditional processes while embracing original ideas. These decades of experience afford our engineers a wealth of knowledge from which to create stunning digital instruments, in a quest to perfect the art of the piano.
A digital piano that will transform enthusiastic players into accomplished pianists, and modest homes into grand concert halls. This is the ambitious philosophy behind the Concert Artist digital pianos – a premium instrument that captures the essence of playing a magnificent concert grand piano, and inspires musicians to realise their true artistic potential.
To achieve this ambition, every aspect of the new Concert Artist has either been redeveloped or significantly improved, ensuring that this flagship instrument provides the most authentic playing experience of any digital piano.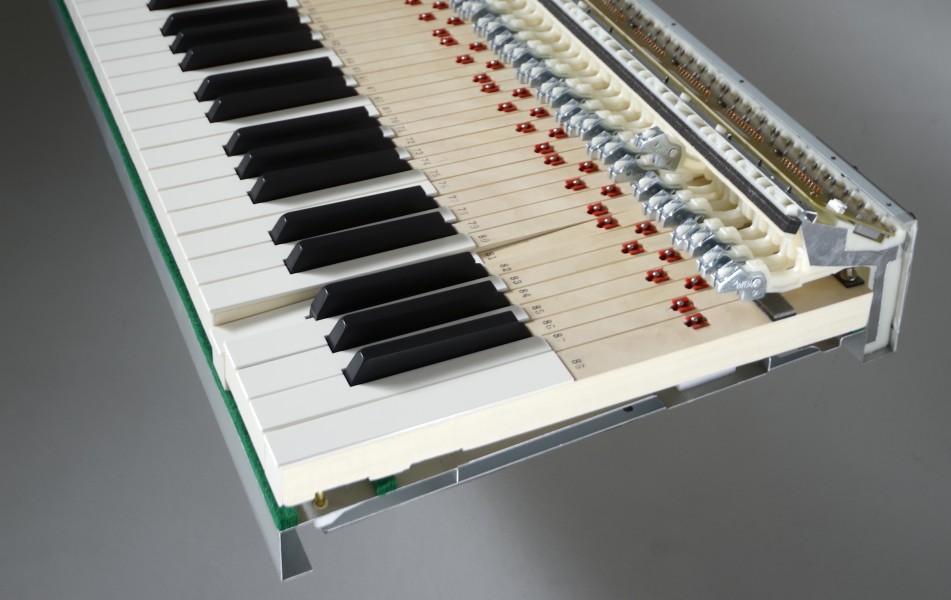 The instrument's new Grand Feel keyboard action reinforces Kawai's reputation as an industry leader, utilising real wooden keys with luxurious Ivory Touch surfaces, and incorporating premium features such as Let-Off simulation and triple-sensor key detection.
This class-leading keyboard action is bolstered by powerful new digital audio technologies that faithfully reproduce the exquisite sound of Kawai's magnificent EX concert grand piano.
With the latest Harmonic Imaging XL sound sampling, remarkable 256 note polyphony, and brand new reverberation and resonance modelling effects, the new Concert Artist delivers unparalleled acoustic realism that is guaranteed to enthral performers and audience members alike.
Yet despite the abundance of powerful technology on the inside, the Concert Artist still manages to deliver a remarkably traditional piano playing experience. This is thanks to the instrument's concealed control panel and handsome cabinet design, with a selection of distinctive grand piano-like characteristics that celebrate Kawai's rich, classical pedigree.
Unrivalled grand touch, breathtaking acoustic tone, distinctive traditional design, and inspirational modern features. Concert Artist from Kawai – the concert grand piano experience in the comfort of your home.
The Touch of a Grand Piano
The keyboard action of an acoustic grand piano is composed of black and white keys, graded hammers, and numerous other components working in harmony when each note is pressed. This beautifully designed mechanism allows gifted pianists to express a wealth of feeling and emotion in their music, as they appreciate and respond to the tactile nuances transmitted through the keyboard.
Translating the piano action's intricate movements to a digital instrument, while retaining these acoustic-like subtleties is a stunning achievement – one which has drawn upon 85 years of experience in building some of the world's finest pianos.
Grand Feel keyboard action
Embracing many of the long-established principles associated with an acoustic piano, the new Grand Feel keyboard action utilised by the latest Concert Artist combines realistic materials, motion, and mechanism to recreate the exceptional touch of the finest concert grand pianos.
All eighty-eight black and white keys are crafted entirely from long pieces of wood, with finely textured ivory-like surfaces applied to absorb moisture and assist control. Each wooden key pivots smoothly on a balance pin – the ends rising and falling to replicate the familiar 'seesaw' motion of an acoustic piano action. When pressed, the back of the key lifts, triggering a grade-weighted hammer to strike a pressure switch. The amount of force applied to this switch is then measured, and the corresponding note played with authentic tonal character and volume.
Additional counter-weights placed at the front of the bass keys help to lighten their heavier touch during pianissimo passages, with let-off simulation also reproducing the delicate 'notch' sensation felt when playing the keys of a grand piano very softly.
These subtle characteristics allow discerning pianists to practise their expanding repertoire with confidence, and ensure that there are no unpleasant surprises when called upon to perform using the finest acoustic grand pianos.
Ivory Touch key surfaces
The exceptional Concert Artist features Kawai's highly regarded Ivory Touch key surfaces as standard. This finely textured material gently absorbs fingertip perspiration and oils to assist playing control, and possesses a natural, matte finish that is smooth but not slippery.