Дата: 2017-04-11
Новото NOVUS NV10 хибридно дигитално пиано представено на панаира във Франкфурт!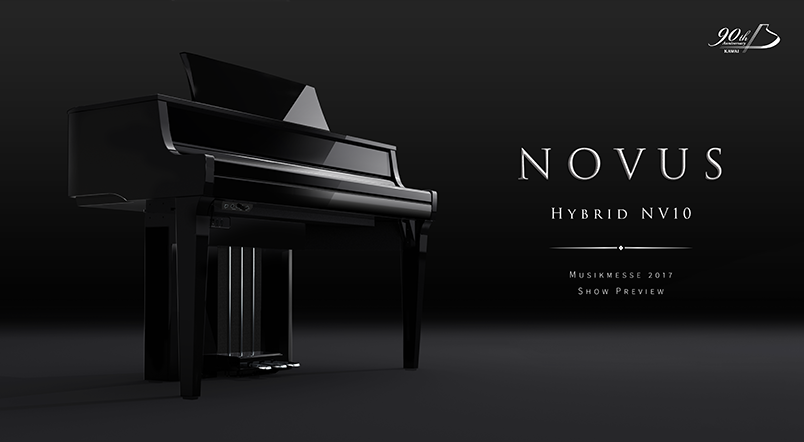 To coincide with the company's 90th anniversary, Kawai is proud to announce that a brand new hybrid digital piano instrument, the NOVUS NV10, will be previewed to the public at Frankfurt Musikmesse 2017.
The NOVUS NV10 is the first digital piano to incorporate Kawai's leading Millennium III grand piano keyboard action, renowned for its extended spruce key sticks, reinforced hammer shanks, and innovative ABS Carbon components that are stronger, lighter, and more dimensionally stable than conventional wooden parts. The specially adapted Millennium IIIHybrid action utilised by the NV10 replaces traditional felt hammers with new ABS equivalents that are individual graded in weight from bass to treble, while high-precision optical sensors take the place of metal strings, accurately reading the subtle movements of each hammer as the corresponding keys are played.
In addition to featuring a full acoustic grand piano keyboard action, the NOVUS NV10 is the first hybrid instrument to also incorporate a real grand piano damper mechanism. While there are no strings inside the NV10 to require physical damping, this unique feature replicates the true weighting of a grand piano damper pedal, while also easing the keyboard action's touch weight as the pedal is pressed – an important acoustic piano characteristic that, until now, has been overlooked.
At the sonic heart of the NOVUS NV10 is a digital representation of the Shigeru Kawai SK-EX concert grand piano – widely regarded as one of the finest instruments in the world. The rich tonal character of this flagship instrument is captured using full 88-key sampling, and brought to life with Kawai's unique Harmonic Imaging XL piano engine and advanced Acoustic Rendering resonance modelling. This beautiful SK-EX sound is then delivered with stunning clarity thanks to 1-bit processing, premium dual DACs, and DIDRC filter and amplification technology powered by Japan's leading high-end audio manufacturer, Onkyo, to redefine the grand piano experience for players and audience members alike.
More information about the NOVUS NV10 preview can be found at www.kawai-onkyo.com, while Musikmesse visitors can experience the instrument in person at a special exhibit in Hall 9.0 booth A64 from 5th-8th April.